---
DOWNLOAD: Dam Removals & Floodplains Quick Guide
---
WATCH: Pelletier Dam Removal Footage
Filmmakers taking footage of the Pelletier Dam Removal last week in Castleton Vermont. Let the rivers flow!
---
Another View of Curtis Pond
The following is a letter to the editor in response to the piece "Maple Corner Gives a Dam," published on August 3 in Seven Days:
["Maple Corner Gives a Dam," August 3] fails to map the watershed connection: Pekin Brook and the wetlands that support Curtis Pond are headwaters to the Kingsbury Branch, which flows to the Winooski River and, ultimately, Lake Champlain. Once, this river flowed freely, moving sediment, nutrients, fish and other organisms downstream. Then, in 1900, Curtis Pond Dam was built to create a millpond.
This man-made barrier caused the water to stop moving, resulting in warmer water temperature, less dissolved oxygen and a sediment-starved downstream. The trout were replaced by sunfish, the biodiversity dropped, nutrients were trapped and the emergent wetland vegetation suffocated.
Reconnecting rivers is a nature-based solution to climate change, and it's no secret that Lake Champlain is in trouble. Local watershed associations and conservation districts, regional planners, and state and federal partners are working hard with communities to weigh the benefits and impacts and prioritize projects that achieve the most water quality, habitat and public safety improvements while at the same time supporting improved public access for recreation, including fishing, swimming and boating. Vermont's future depends on clean water, and removal of derelict dams is part of the clean water puzzle.
Curtis Pond is obviously an important resource to the residents of Maple Corner, and the Vermont Natural Resources Council supports their efforts to maintain it. But it is equally important to understand the trade-offs these decisions involve. We must take every advantage to remove derelict dams that fragment habitat, degrade water quality and pose a threat to downstream properties.
Karina Dailey
JERICHO
Dailey is a restoration ecologist with the Vermont Natural Resources Council.
---
Crooked Creek Dam Removal in Colchester, VT is Complete!
The work on this dam removal was led by Allaire Diamond from Vermont Land Trust (VLT).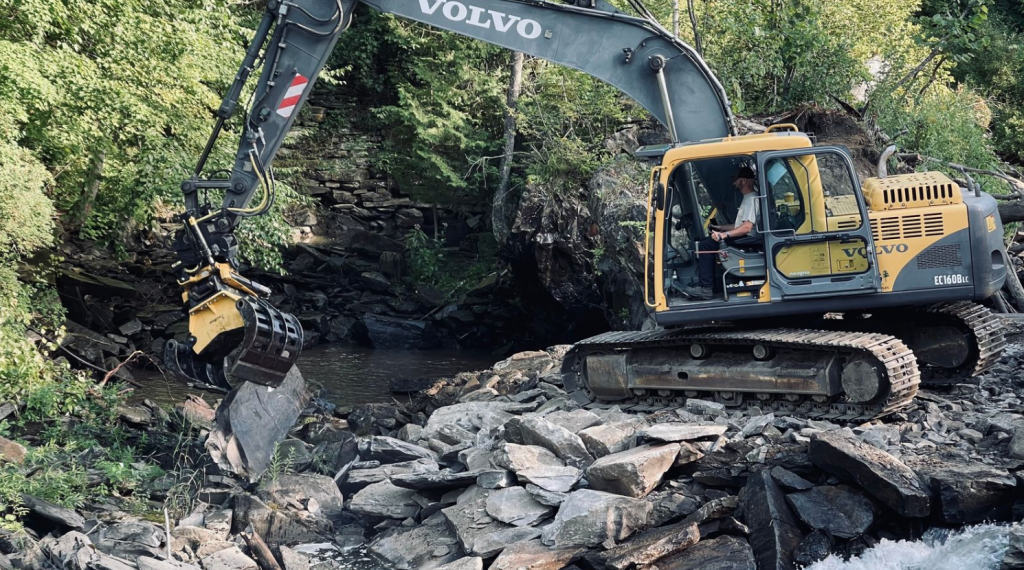 ---
WATCH: Montague Dam in Post Mills, VT is complete!
Ron Rhodes and CT River Conservancy were the lead on this project.
---
WUV New Funding Opportunity
Applications due September 8, 2022. We are pleased to release Watersheds United Vermont's (WUV's) new Department of Environmental Conservation Dam Removal Design and Implementation Block Grant (Dam Removal DIBG). WUV has approximately $500,000 to subgrant to eligible entities for dam removal projects that reduce sediment and nutrient pollution, including phosphorus, from runoff and soil erosion that discharge into the State's rivers, streams, lakes, ponds, and wetlands. WUV seeks proposals for the preliminary design, final design, and implementation of dam removal projects in Vermont. Funding is provided by the Vermont Department of Environmental Conservation's (VT DEC) Clean Water Initiative Program (CWIP) and is administered by WUV. Projects must be completed by 2024. No leverage/match is required under this program. Voluntary leverage/match is appreciated, particularly for larger implementation projects given the limited availability of funds. Please note that this funding can't be used as match/leverage for other funding sources. All materials including Grant Guidelines, Grant Application, mandatory Dam Removal Project Readiness and Eligibility Form, and CWIP Funding Policy are now posted on WUV's Block Grant website. Please reach out to Christian Pelletier, WUV's Grant Administrator, and Lyn Munno, WUV's Director, with any questions on this grant.
---
Removal Work Has Started at Pelletier Dam in Castleton, VT
July 11, 2022
The removal of the Pelletier Dam in Castleton has begun. This derelict stone dam, located on North Breton Brook off of East Hubbardton Road and approximately 0.85 river miles upstream from the confluence with the Castleton River, was originally built around 1792 to power an industrial marble mill (the Sherman Marble Mill complex). In addition to water power, the dam impoundment was also used for commercial ice harvesting. After the closing of the Marble Mill in this location, the dam was acquired by the State of Vermont Fish and Wildlife Department who recognize that the ecological benefits of dam removal far outweigh the barrier that blocks trout species from moving up and down North Breton Brook. "For over 200 years the dam has caused a significant impediment to stream flow, sediment transport, water quality, public safety and fish passage along North Breton Brook and the Castleton River. The removal of this dam will reconnect approximately 37 miles of wild trout habitat and restore approximately 3000 feet of riparian floodplain and stream habitat," said Karina Dailey, Restoration Ecologist of Vermont Natural Resources Council.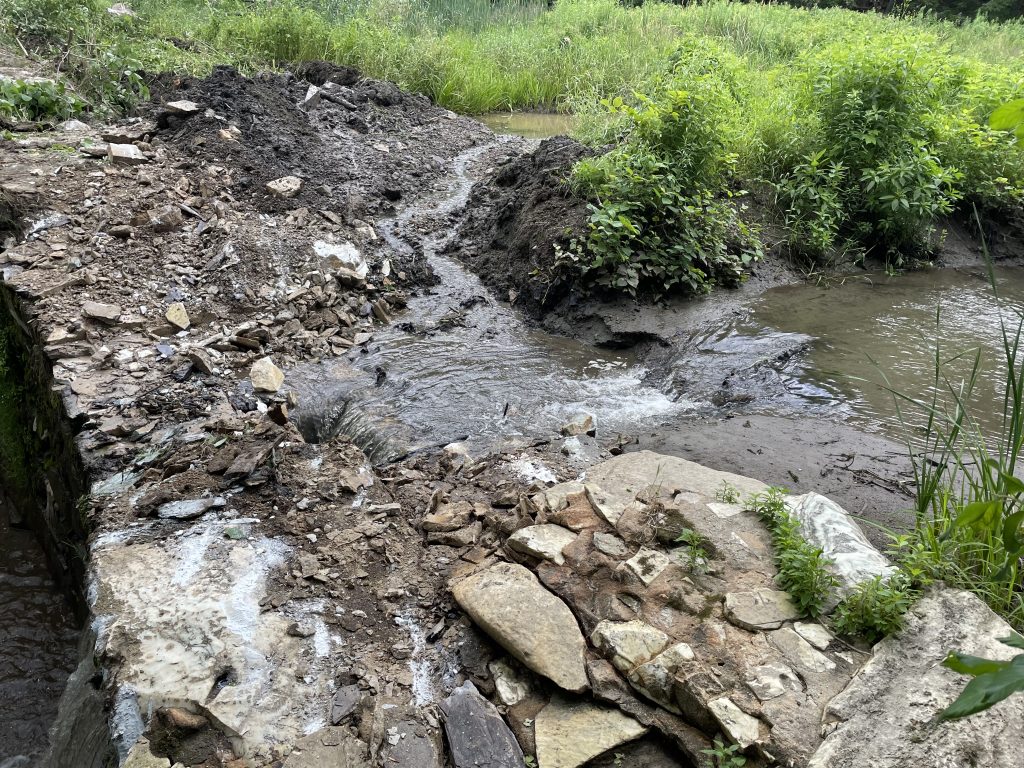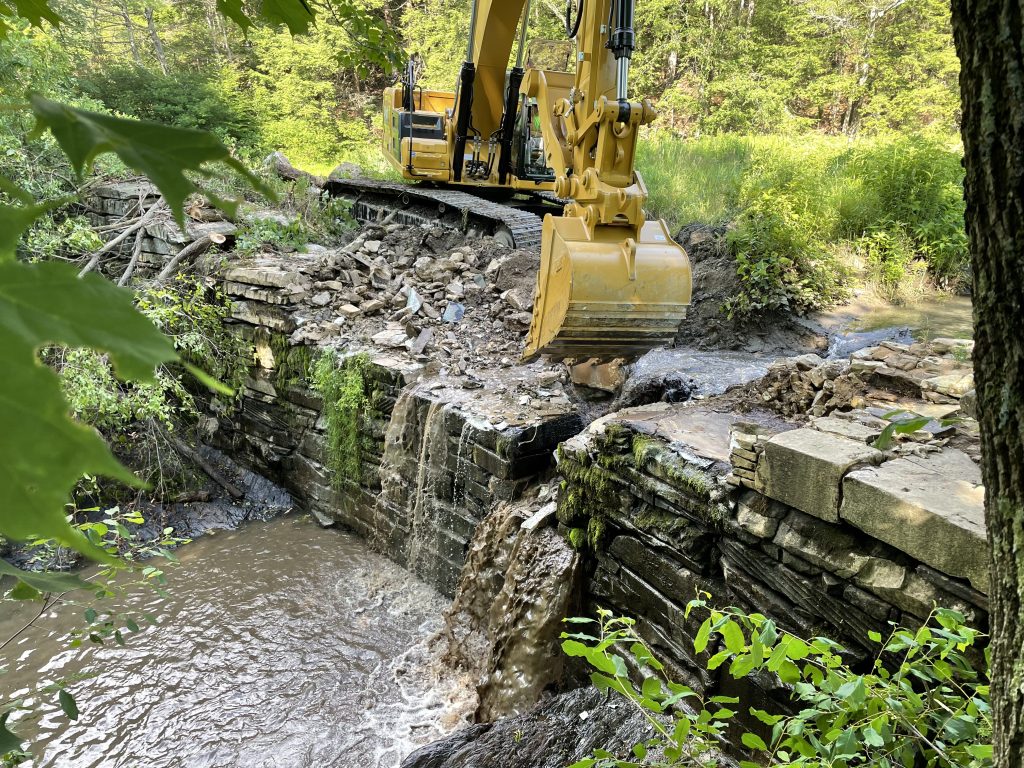 ---
The spring 2022 issue of the Watershed Forestry Partnership newsletter is out!
This issue includes stories about removing the Dunklee Pond Dam; restoration work to benefit birds and bees; using willows multiple ways in restoration projects; and more! Thank you to those of you who submitted stories and updates for this issue. The first page of the newsletter is below, and the complete issue is attached and available online here.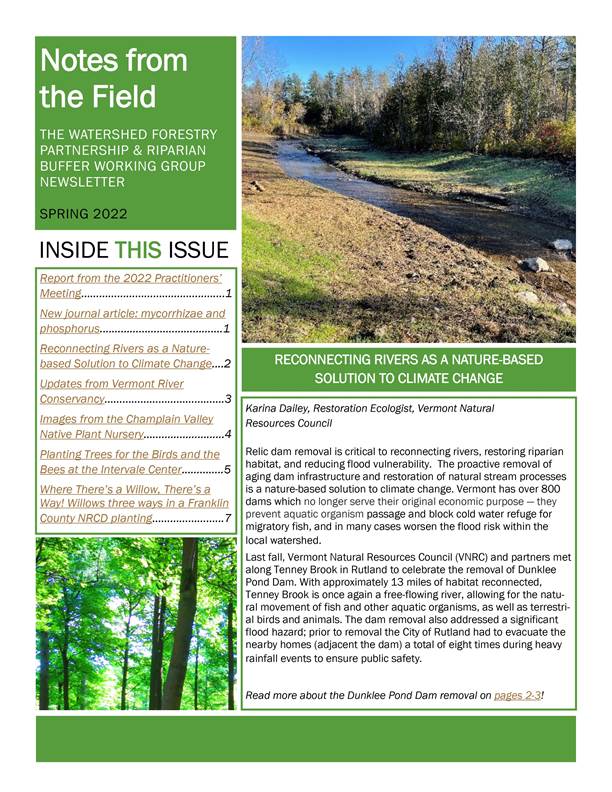 ---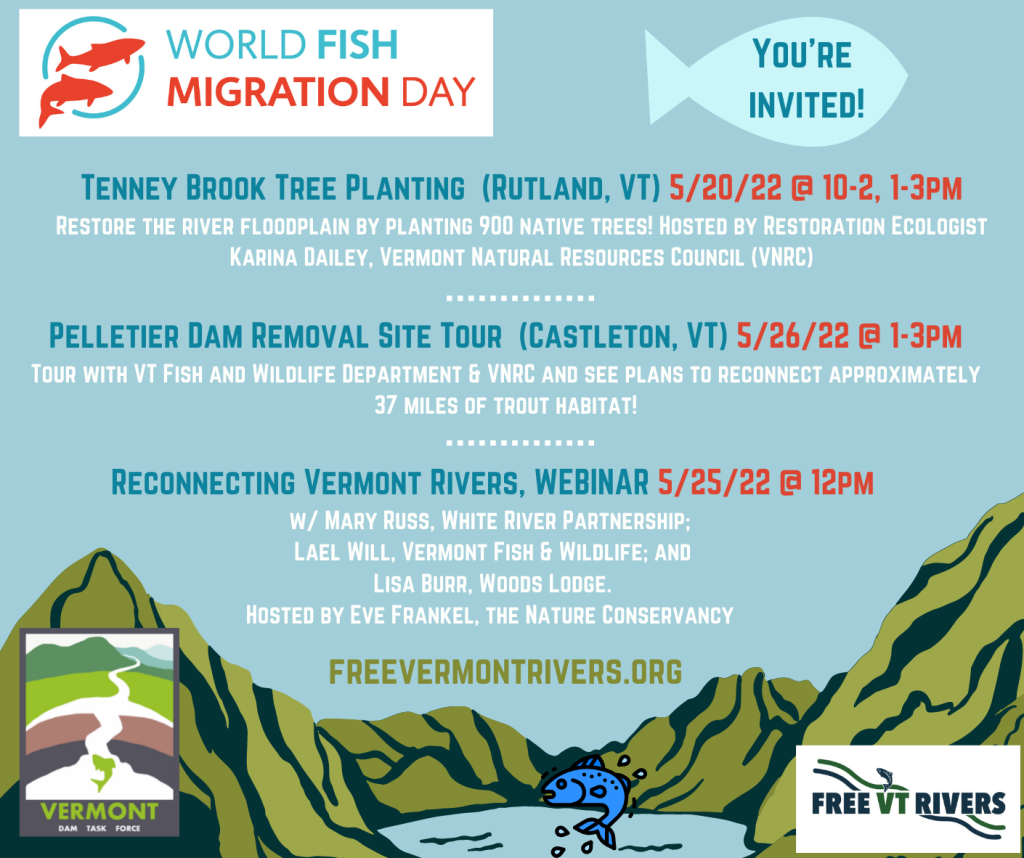 ---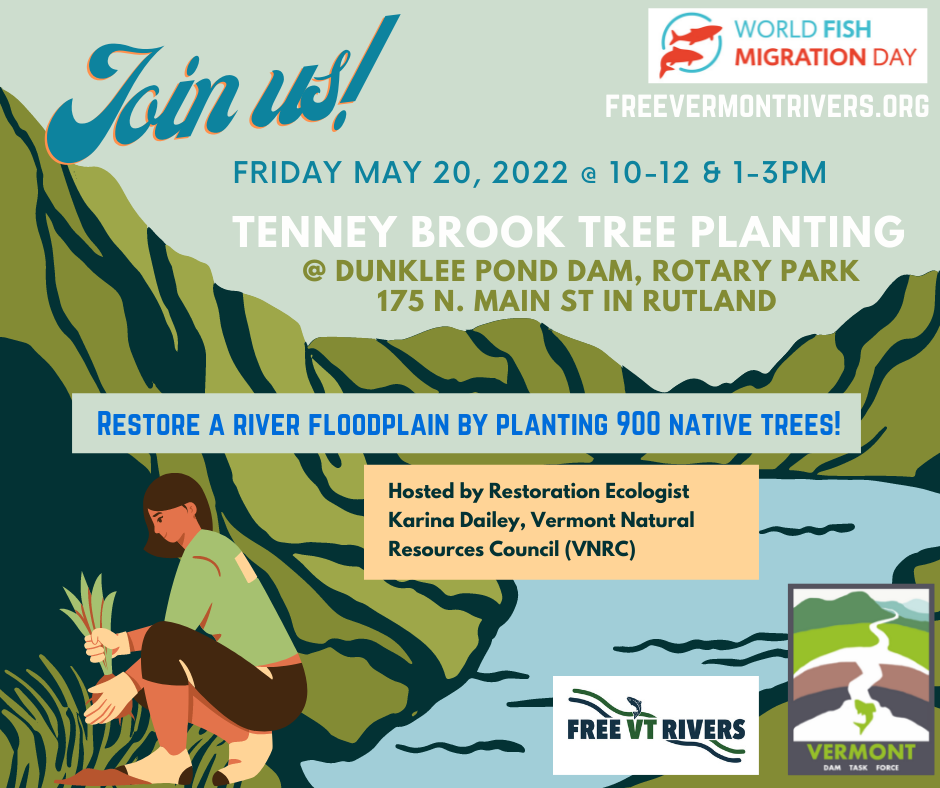 Tenney Brook Tree Planting in Rutland, VT
Friday, May 20 @ 10-12 & 1-3pm
Come Restore a River Floodplain by Planting 900 Native Trees!
Volunteers needed! Join us to celebrate the removal of Dunklee Dam and restore the river floodplain with native trees! Tree planting will be on-going so just stop by for an hour or plant all day!
Hosted by Restoration Ecologist Karina Daily, Vermont Natural Resources Council (VNRC)
Location: Dunklee Pond Dam, Rotary Park, 175 N. Main Street in Rutland, VT
---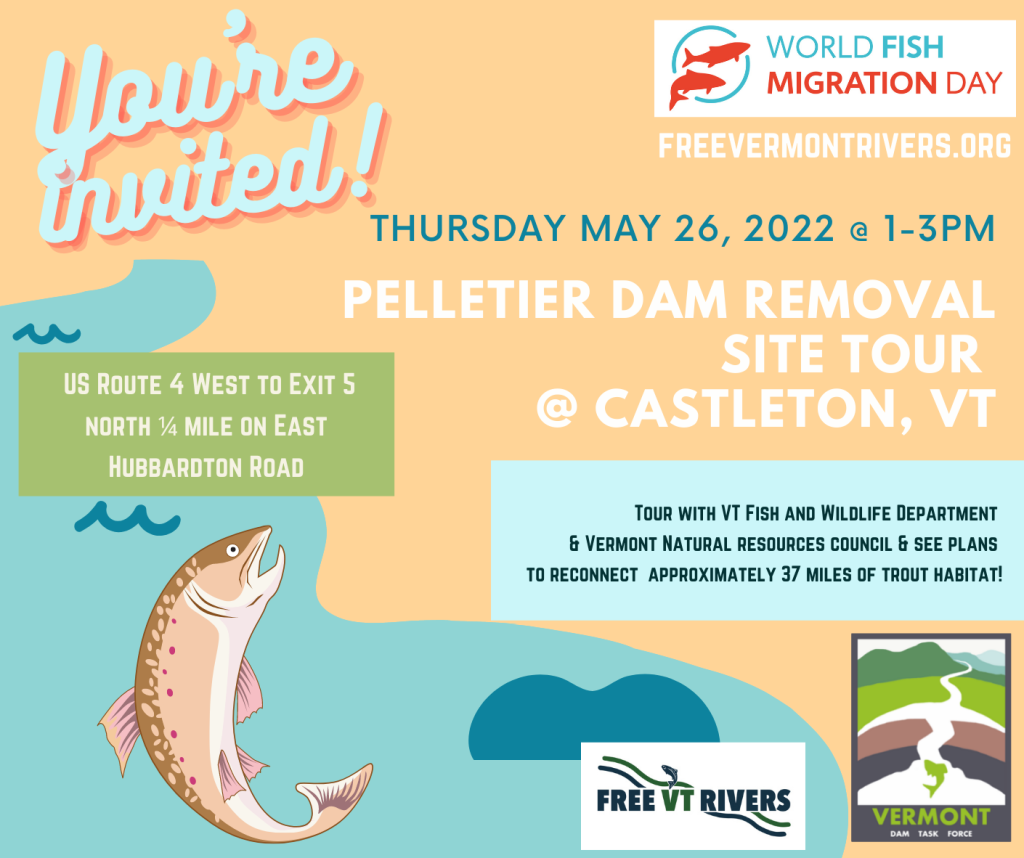 Pelletier Dam Removal Site Tour in Castleton, VT
Thursday, May 26 @ 1-3pm
Removal of this dam in Castleton is planned this summer and will reconnect approximately 37 miles of trout habitat. Tour with VT Fish and Wildlife Department & Vermont Natural Resources Council and see plans to reconnect approximately 37 miles of trout habitat.
Location: US Route 4 West to Exit 5; North 1/4 miles on East Hubbardton Road
---