Reynolds Dam, Dorset (2022)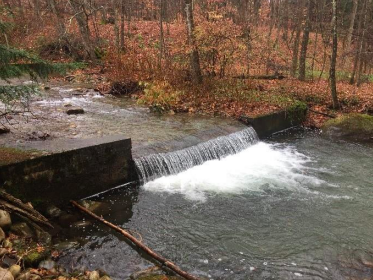 The Reynolds Dam project removed two small concrete dams built in 1945 in Dorset, Vermont. The dams were origionally built for recreational purposes such as swimming and wadding. The two dams were low-head and vented and built approximately 30 feet apart. They were located approximately 200 feet downstream of the Dorset Hollow Road crossing on the Mettawee River.
The project was finished in July of 2022 to facilitate fish passage and help protect against flood risks. The removal was led by the Poultney Mettawee Natural Resource Conservation District in partnership with US Forest Service, US Fish and Wildlife Service, and Trout Unlimited. The dams are within the Mettawee River watershed, which drains to the South Lake of Lake Champlain. The upper dam was buried in sediment, but the lower dam (pictured to the left) created a 2-foot drop as a barrier to fish passage. Removing the dams improves sediment and water flow/transport from upstream to downstream, improves flood protection and downstream water quality, and allows for aquatic organism passage from downstream to upstream.
Photo: The lower Reynolds Dam by Poultney Mettawee Natural Resource Conservation District.