Mill Pond Dam, Colchester (2019)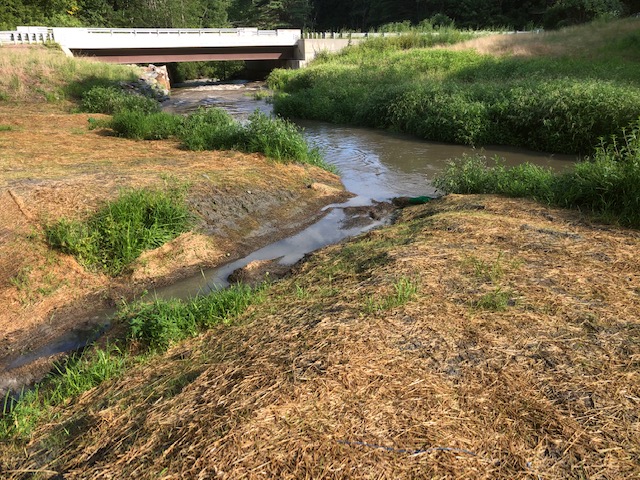 Ground broke in August 2019 on the removal of Mill Pond Dam on Indian Brook in Colchester, which had not served a purpose since the last mill it powered burned down in 1941. The removal was completed in November 2019.
The Vermont Natural Resources Council (VNRC) led the removal of Mill Pond Dam with support from its partners, The Nature Conservancy in Vermont and U.S. Fish and Wildlife Service. Funding for design, permitting, and construction was provided by the Lake Champlain Basin Program, U.S. Fish and Wildlife Service, Vermont Department of Environmental Conservation – Clean Water Initiative Program, Vermont Department of Fish and Wildlife – Watershed Grant Program, and The Nature Conservancy in Vermont.
The deteriorating dam was classified by the state Dam Safety Program as a "significant hazard," meaning there is potential for loss of life and "appreciable" economic loss should the dam fail. In addition to eliminating 2,200 feet of free-flowing riverine habitat, the dam's impoundment had filled in the former mill pond with an estimated 17 tons of phosphorus. Phosphorus contributes to algae blooms and excessive aquatic plant growth in Lake Champlain that degrade water quality, harm fish and wildlife, and limit recreational use of the lake.
The dam removal project reconnected 31 miles of stream, bringing Indian Brook closer to its natural free-flowing state and restoring habitat for a diverse aquatic habitat. Indian Brook will gradually be restored to a free-flowing stream, to the benefit of aquatic ecosystem and public safety.
In Spring 2020, after a huge fall 2019 storm event — as is typical for this type of project — the dam removal needed some buttoning-up. We want to give this project the best recipe for ecological success, so we planned a spring clean-up to support natural biodiversity, channel evolution, and sinuosity. Although native plants from the adjacent seed supply were already knee high, some bare patches needed some additional growth. So we added some seed species and spread locally sourced woody shrubs, and herbaceous seeds. Learn more here.
This video shows the removal process and highlights the dam owner's motivations for wanting to have the dam taken out.