Johnsons Mill Dam, Bakersfield (2021)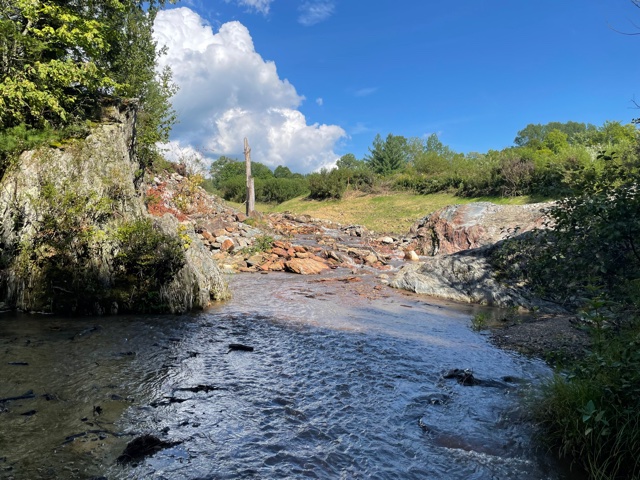 In August of 2021, Franklin County Natural Resources Conservation District (FCNRCD) removed the Johnsons Mill Dam in Bakersfield, Vermont.  FCNRCD was the project lead and worked with many partners to receive funding and technical support including VNRC, Lake Champlain Basin, US Fish & Wildlife Service, Vermont Department of Environmental Conservation and Vermont Fish and Wildlife Department – and landowner Steve Cooper.  The goal of the dam removal was to restore the Bogue Branch to a free-flowing state to improve water quality, flood resilience, and aquatic organism passage (AOP) in the Lake Champlain Basin.
Stone Environmental provided design and engineering services for this project lead by Gabe Bolin, PE (Senior Water Resources Engineer) and Jeff Corey Excavating implemented the dam removal and associated stream restoration.
The Johnsons Mill Dam was a low head, gravity dam, built primarily of concrete and founded largely on bedrock. The dam is approximately 220 ft long and 19 ft high. At normal pond level, reported to be 8 ft, this dam created an approximately two-acre impoundment. The dam was located on the on the Bogue Branch which is a tributary to the Tyler Branch. The Tyler Branch is a tributary to the Missiquoi River which drains into the Missisquoi Bay in the northeast corner of Lake Champlain.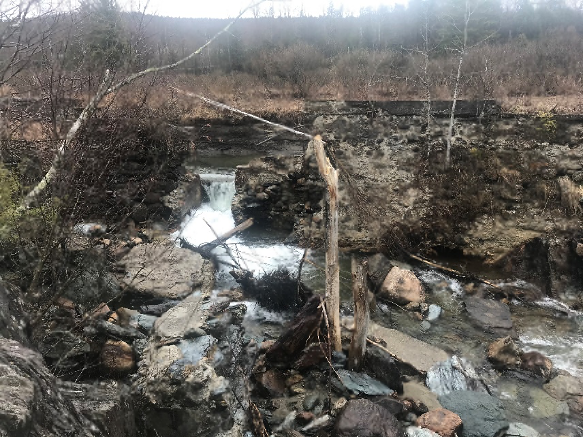 Vermont Fish and Wildlife Department has previously confirmed that there is a healthy native brook trout population (roughly 600 brook trout/mile) in the Bogue Branch both upstream and downstream of the dam. The Johnsons Mill Dam provided a large barrier to fish between the headwaters of the Bogue Branch in the Cold Hollow Mountains as well as other stream reaches of the Tyler Branch and the Missisquoi River. With the removal, brook trout in the downstream reaches of the Bogue and Tyler Branch will be able to access the coldest waters at the highest reaches of the watershed. This is critical because water temperature is a critical factor in Brook Trout habitat. Brook Trout thrive in water temperatures of near freezing (32°Fahrenheit) to about 65°F. Temperatures between 55°F and 60°F are ideal. Although Brook Trout will tolerate brief periods of temperatures up to 72°F, they will die if exposed to temperatures of 75°F for only a few hours (State of Vermont). As temperatures rise in Vermont because of climate change, we should expect the temperatures of our streams and rivers to increase as well. Brook Trout are particularly sensitive to temperature changes and will rely on access to high elevation, cold-water streams like the Bogue Branch as critical habitat during the hottest months of the year.
For more information, including time lapse videos check out:  https://www.franklincountynrcd.org/jmdremoval